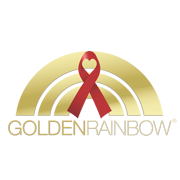 >
Golden Rainbow
Golden Rainbow
Mission: Golden Rainbow is the agency of choice supporting those living with HIV/AIDS in Southern Nevada by providing emergency assistance, education, financial aid, and affordable housing in a safe and inclusive environment.
About: Golden Rainbow® is a non-profit organization co-founded in 1987 by Bree Burgess and Peter Todd to provide housing and financial assistance to people living with HIV/AIDS in Southern Nevada.
The organization was established by members of the Las Vegas entertainment industry who saw the need to provide housing for people with AIDS when one of their fellow performers was forced to live and eventually die in his family's garage. Motivated by their castmates and friends suddenly becoming ill and dying in record numbers, show performers from all over the Strip organized a benefit show to raise funds to provide shelter for those in most need. Originally called "Golden Rainbow," the show premiered on July 11, 1987, in the Ziegfeld Theatre at Bally's, and is now known as the "Ribbon of Life®" that remains one of the largest and most successful HIV/AIDS annual fundraisers in Nevada. In addition, the organization hosts their annual "Dining Out for Life" event, partnering with local restaurants to fundraise for their critically needed service. For more information, visit goldenrainbow.org.
| | |
| --- | --- |
| Phone | 702.384.2899 |
| Address | , |
| Map | |
The Charity Gurus | View Organization
Enter a one-time donation amount