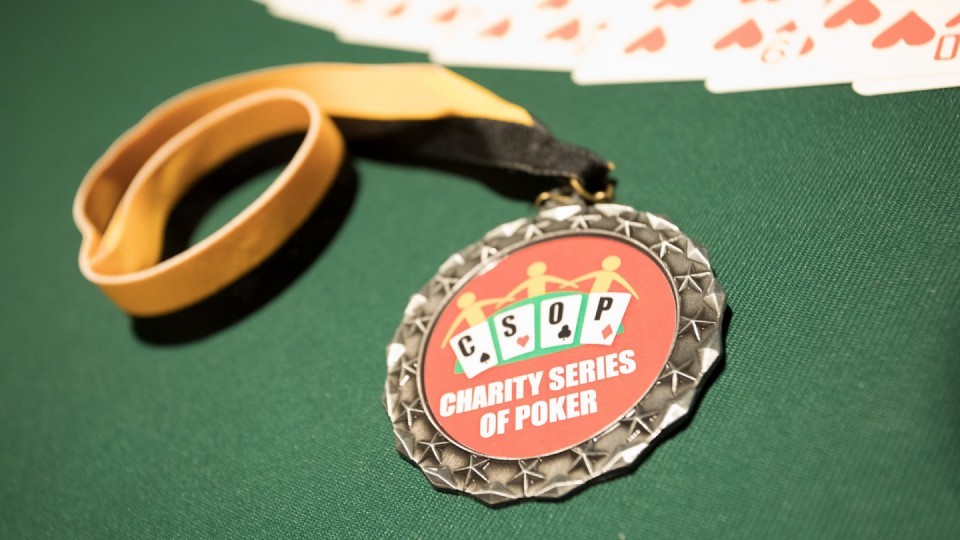 >
"Slay Cancer with Poker" raises more than $30,000 to benefit the Tyler Robinson Foundation
"Slay Cancer with Poker," the charity poker event in partnership with the Charity Series of Poker, raised more than $30,000 on Saturday night to benefit the Tyler Robinson Foundation (TRF), the nonprofit organization of the GRAMMY® Award-winning band Imagine Dragons dedicated to supporting children battling childhood cancer. Emceed by comedian Joe Stapleton, poker players and celebrities alike played to win all in support of TRF.
Among those who played in support of slaying cancer were Ben McKee of Imagine Dragons, "Truth Be Told" star Mekhi Phifer, horror icon Kane Hodder, poker superstar Daniel Negreanu, Austin "Chumlee" Russell from Pawn Stars, World Series of Poker bracelet winners Chris Wallace and Dutch Boyd, media personality Mercedes Martinez, Fernando Castro from "Legends in Concert" and Sean Walker from "FANTASY."
John Bolton walked away with the grand prize of a $10,000 2020 World Series of Poker (WSOP) Main Event seat. Additionally, Chumlee upped the ante after he won $1,000 cash bonus for being the chip leader and donated the cash directly to TRF.
All net proceeds from the event will benefit TRF. TRF has raised more than $10 million to support families battling childhood cancer by providing grants to offset the many unseen costs associated with treatment. More than 1,000 families have benefited from TRF support. The Foundation continues to grow its efforts for families through a number of awareness and fundraising initiatives.
Sponsors for TRF's "Slay Cancer with Poker" charity event include All American Dave's Fit Food Truck, Beckwith Printing, Brad Garrett's Comedy Club, Gaetano Brand, Global Poker Index, JB Public Relations, Klarity Life, Lake Las Vegas Water Sports, Las Vegas ATV Tours, PokerNews, Professional Massage Inc., Revolt Tattoos, Right Touch Trophies, RunGoodGear, Sofa King Creative, Spade Sun Shades, Ultimate Boat Racing Experience, Vegas Sports Shop and VerStandig Law.
About the Tyler Robinson Foundation
The Tyler Robinson Foundation (TRF) helps strengthen families financially and emotionally as they cope with the tragedy of a pediatric cancer diagnosis by providing grants specifically to offset out-of-pocket life expenses. TRF is the nonprofit organization of the Grammy Award-winning, multi-platinum selling band Imagine Dragons. TRF meets a critical need in communities across the U.S., Canada, Mexico, Europe and Malaysia. Each year, one in 285 children are diagnosed with cancer. While many pediatric cancer organizations focus on growing awareness and support for families with the physical and emotional toll of a diagnosis, the huge financial hardship cancer treatment places on families is rarely discussed. More than 85-percent of every dollar TRF raises goes right to families in need. For more information, visit TRF.org and follow TRF on Facebook, Twitter and Instagram.